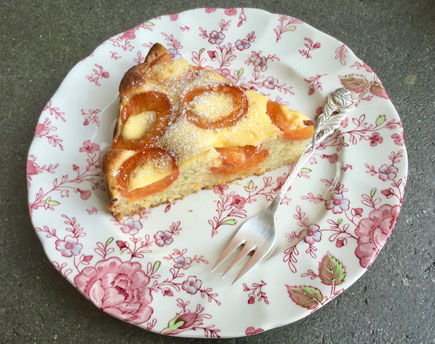 French Apricot Cake, July 2019
This week I bought a kilo of lovely, small, rosy apricots from the nice people at the Hof Rosenköppel farm shop in Frauenstein. I had a hankering for a French-style apricot cake but couldn't remember whether I'd made one before and didn't have a recipe to hand. A quick Google brought me to this great recipe from Clothilde at Chocolate and Zucchini.
This is the perfect example of how the French make wonderful fresh fruit cakes – the quick custard poured over before baking gives a lovely creamy moistness that I often find is missing from seasonal stone fruit cakes.
I should also add that I made a few changes to the method: I creamed the sugar and butter first in the usual way, just because I'm more comfortable with that method, then added the egg and a couple of tablespoons of milk. Next, I sieved in the dry ingredients and mixed the batter gently by hand. I loosened the mixture up with another 3 tablespoons of milk after adding the flour, so I used 5 tbsp of milk in total.
I also used spelt flour and added a teaspoon of vanilla essence to the batter. 
The result was exactly what I was looking for! I'll definitely use this recipe again and will try experimenting with other seasonal fruit like plums or rhubarb, as Clothilde recommends. Vive la France J
---
It's courgette season again! How many ways are there to cook a courgette? I stopped counting after 512... Anyway, here's two different versions of the same recipe, the first uses Italian flavours, the second, Indian. Both were inspired by Felicity Cloake's 'How to cook the perfect courgette fritters' column in the Guardian
(check it out here: https://www.theguardian.com/lifeandstyle/wordofmouth/2016/aug/25/how-to-cook-perfect-courgette-fritters-recipe) 
1. Ingredients: Italian style (first photo)
600 g grated courgette
1 tsp salt
40 g maize flour (or other flour, wheat is fine if you"re not avoiding gluten)
30 g fine polenta meal
1/2 tsp baking powder
4 spring onions, finely chopped
2 eggs, beaten
grating of nutmeg
20 g grated parmesan
handful of fresh sage leaves, stacked and finely julienned cross-ways 
- Add half tsp of salt to grated courgette and work in with your hands. Leave in a colander to drain for at least half an hour. Squeeze out water from courgettes and put into a mixing bowl.
- Add spring onions to courgettes, mix, then add dry ingredients. Mix again with hands. Add beaten eggs and grated nutmeg, mixing again with hands.
- Sprinkle your chopped sage leaves evenly across a chopping board.
- Take a tablespoonful of the mixture in your hands and form into a ball (mixture will be sticky but should more or less hold its shape). Press ball down onto herb- covered chopping board, pressing down to make a patty. Lift patty carefully and place down on board again, ensuring that each side has sage leaves stuck to it.
- Heat a decent layer of olive oil over a medium-high heat in a non-stick pan and when hot, fry fritters for a couple of minutes each side until golden brown. Drain on kitchen paper until they are all ready.
- As you can see in the first picture, I just served these as an aperitif with some tomato chutney - perfect with a glass of Riesling.
Makes around 8 large fritters.
2. Indian style (photos 2 - 6)
500 g grated courgette
3 spring onions, finely chopped
half a green chili, chopped
small bunch coriander, chopped
1 tsp fennel seeds
1 tsp mustard seeds
1 tsp turmeric powder
2 garlic cloves, grated
pepper, salt
60 g chickpea flour
20 g maize flour (wheat flour or other flour can be used instead, I was just trying to keep it gluten free)
2 eggs, beaten
olive oil for shallow frying
- Add half tsp of salt to grated courgette and work in with your hands. Leave in a colander to drain for at least half an hour. Squeeze out water from courgettes and put into a mixing bowl.
- Add spring onions, chili and coriander to courgettes, mix, then add dry ingredients, including spices. Mix again with hands. Add beaten eggs and salt and pepper, mixing again with hands or a fork. This mixture will be wetter than the previous recipe.
- Heat a decent layer of olive oil over a medium-high heat in a non-stick pan and when hot, dollop tablespoons of mixture into pan, flattening with spatula. Fry fritters for a couple of minutes each side until golden brown. Drain on kitchen paper until they are all ready.
Serve with chutney and/or plain yoghurt with a little ground cumin sprinkled over, and a side salad.
In the picture you'll see a simple salad of sliced radish mixed with the juice of half a lime, salt and a pinch of mild chili powder.
Vary the spices and herbs as you wish! Makes a perfect light lunch for two  (12-14 fritters)
Trifle is a delicious layered dessert using cake or biscuits in the bottom of the dish, usually soaked with a little alcohol, followed by fruit (and often, but not always, jelly), silky homemade custard, and, finally, whipped cream. It's a very flexible dessert allowing you use all kinds of alternatives for the bottom layer and the fruit layer. In the UK it is traditionally a Christmas dessert but you can easily adapt it to the different seasons and it's always a treat at any time of the year.
Makes 4- 6 (depending on the size of your serving glasses/bowls)
Ingredients
Approx. 150 g of McVitie's digestive biscuits or or any biscuits or sponge cake of your choice (ginger cake is a lovely choice)
Optional: 4-6 Tbs amaretto liqueur or other liqueur of you choice 
250 ml whipping cream, softly whipped
For the rhubarb
800 g rhubarb stalks, washed and sliced into 2 cm pieces
3 Tbs brown sugar
3 -4 Tbs ginger syrup (I made my own using the David Lebovitz recipe available here)
For the custard
3 large egg yolks
100 ml milk
200 ml cream - double or whipping (Schlagsahne)
4 Tbs sugar
Vanilla essence or seeds from half a vanilla pod
1 Tbs cornflour (Speisestarke in German)
Method
1. Prepare the rhubarb: Place chopped rhubarb in a roasting dish and sprinkle with sugar and the syrup. Bake in an oven preheated to 160 °C for 20 mins or until softened.
2. Make the custard: Place all ingredients for the custard into a pan and whisk together thoroughly. Heat over a medium heat, stirring constantly until the custard thickens to a thick pouring consistency. Remove from the heat and if not using immediately, cover with cling film to prevent a skin from forming.
3. To assemble the trifles: Break 2 biscuits or a small slice of cake into small pieces and place in the bottom of each serving glass or bowl. Sprinkle 1 Tbsp. of liqueur over the biscuits/cake in each glass. 
4. Spoon 2-3 Tbsp. of the rhubarb into each glass on top of the biscuits/cake.
5. Pour custard on top of the rhubarb leaving a space of 1-2 cm from the top of the glass. Ideally you want the custard to run down and fill in any gaps between the rhubarb so you can give the glasses a little shake or uses a thin knife blade to slide down the sides of the glass and encourage the custard to run down. 
6. Top the custard with a little whipped cream and chill in the fridge until ready to serve. Before serving you can sprinkle the tops of the trifles with a little finishing touch of your choice, such as lightly toasted almond flakes or chopped glacé ginger.
Enjoy :)
This is a lovely fragrant, moist cake for people who need to avoid gluten (or not!). The original is a famous Claudia Roden recipe but I've adapted it to bring in more of a Middle-Eastern flavour. It is very easy to make, the only time-consuming part is boiling the oranges - they need to simmer for about an hour and then cool a little before you process them into a smooth puree. You could do this step a day or two before you want to make the cake though and it does fill the kitchen will a lovely marmelade-y scent. You could even boil extra oranges and then freeze the puree to make things quicker the next time you make it. And you will want to make it many, many more times...
Blood Orange and Almond Cake with Cardamom Syrup
2 blood (or normal) oranges boiled for about 1 hour in water
300 g almond flour
2 Tbsp spelt or plain flour (you can leave this out if you want a 100% gluten-free cake - the flour just helps to bind the texture a little bit more but is not essential)
4 large eggs or 5 small
1 tsp. baking powder
1 tsp. ground cinnamon
250 g caster sugar or vanilla caster sugar
For the syrup
Juice of 2 blood oranges
100 g caster sugar
60 ml water
8 whole cardamom pods, lightly crushed 
1 tbsp. orange flower water
To serve
50 g pistachio nuts, chopped, to decorate
A bowl of Labneh or other thick, creamy yoghurt
Method
1. When your boiled oranges have cooled enough to handle, slice them into quarters and remove any seeds you can see, then puree them in a blender or chopper to obtain a smooth paste. Preheat the oven to 170 °C.
2. Using an electric whisk, whisk the eggs and caster sugar until pale and thickened - this will take a few minutes on a medium speed.
3. Meanwhile, mix the dry ingredients together in another bowl.
4. Add the dry ingredients and the orange puree to the thickened egg-sugar mixture and fold them into the mixture until just combined using a large metal spoon or rubber spatula.
5. Butter and flour a bundt tin or a 20 cm non-stick round cake tin. Scrape the cake mixture into the tin and place in the oven for between 1 hour - 1 hour 30 minutes, until a skewer comes out clean (I have a fan oven and find it usually takes around 1 hr 20 minutes). You can check the cake after around 50 minutes and cover with foil after that to prevent further browning if necessary.
6. Leave the cake to cool in the tin before turning it out onto a serving plate.
To make the Syrup
Put all the ingredients for the syrup except the orange flower water into a saucepan and bring to the boil on a medium heat. Stir until thickened enough to brush onto the cake. Take off the heat and add the orange blossom water.
Brush the syrup onto the outside of the cake while still warm using a pastry brush and sprinkle over the chopped pistachios and a little extra grated orange zest if you like.
Serve for tea with the bowl of yoghurt alongside.
On Saturday I went to have a browse in Gunay's, one of Wiesbaden's Turkish supermarkets. I love looking at all the different middle-eastern produce in there, the wonderful flat-breads, spices and dairy produce. I had some nice organic chicken thighs from Domäne Mechtildshausen that I wanted to use so I decided to improvise a meal using some of the ingredients I came home with. This experiment resulted in a delicious, healthy and colourful meal.
Serves 2-3
For the Chicken with Aubergine
6 free-range or organic chicken thighs with skin on (you could use drumsticks too or any bone-in pieces of chicken)
3 aubergines, cut into rounds about 2 cm thick
1 Tbsp. pomegranate molasses
Marinade
4 Tbsp. Labneh - this is a very rich, creamy yoghurt available in tubs from the cheese/yoghurt refrigerated section at Gunay's
Small bunch fresh coriander, washed, with stems attached
2 tsp paprika
pinch Turkish chilli flakes
2 Tbsp. olive oil
Finely grated zest of one organic lemon
Salt & pepper
To Garnish
A few extra coriander leaves 
Seeds of a quarter pomegranate
Any kind of Middle-Eastern flat bread to serve alongside
Method
Put the aubergine pieces in a large oven dish or cast-iron casserole dish and drizzle with a little olive oil, season with salt and pepper.
For the marinade, blend all the marinade ingredients in a mini-blender or chopper to obtain a coriander-flecked paste. 
Massage each piece of chicken well with the marinade and place on top of the aubergines. Use up all the marinade, pouring any extra over the chicken pieces and aubergines.
Cover the dish and bake in a preheated oven at 190 °C for about 1 hour. After an hour, uncover the dish and drizzle the Tbsp. of pomegranate molasses over the dish. Place back in the oven and cook uncovered for another 20 minutes or until the chicken has started to crisp up and the aubergines are starting to blacken a little around the edges. 
Sprinkle over a few coriander leaves and/or pomegranate seeds for colour and serve.
Spinach with Labneh & Pomegranate
1 bunch spinach, washed well and trimmed of the ends of the stalks
3 - 4 Tbsp. Labneh or other creamy strained yoghurt
2 Tbsp. sesame seeds
1 Tbsp. olive oil
Juice half lemon
Salt & pepper
1/2 pomegranate, seeds removed
Method
Cut across the bunch of spinach three times, giving you stalks, leaves and some bits of stalk + leaf. Place in a large bowl and pour over boiling water to cover. Cover with a lid and leave to blanche for 5-10 minutes or so.
Meanwhile, heat a frying pan over a medium-high heat and lightly toast the sesame seeds until they are slightly darker in colour and smell nutty. Set aside.
Drain the spinach well in a colander and place in a serving dish.
Mix the olive oil, lemon juice, salt and pepper together and drizzle over the spinach.
Sprinkle the spinach with the toasted sesame seeds and dollop spoonfuls of the labneh on top.
Sprinkle with the pomegranate seeds and serve.
With family visiting from the UK we decided a cold Monday night was the perfect opportunity to make some delicious Chinese dumplings together and enjoy a nice glass of local sekt and some good German beers! Chinese dumplings are heaven to eat and a lot of fun to make - especially if there are a few of you and you can get a good production line going. 
Below is the recipe for simple pork dumplings - we cheated slightly by using ready-made dumpling wrappers, available frozen from Toko Asia on Dotzheimer Strasse (see links section). You can also used chopped prawns with a little ginger and plenty of fresh coriander as an alternative.
Ingredients for pork dumplings (serves four good eaters)
1 large pack or two smaller ones of ready-made frozen dumpling wrappers, thawed.
For the filling:
- 500g approx. minced pork - not too lean, you need some fat in there to make sure the filling stays succulent (I bought the pork from Domäne Mechtildshausen (see links) - they are happy to add more or less fat depending on your needs)
- Small piece ginger, lightly crushed with the blade of a knife & covered with water in a small cup
- 5 tsp. Shaoxing Rice wine or similar  (e;g. dry sherry or Hua Tiao wine)
- 3 Tbsp. chicken or pork stock
- 3 chopped spring onions - green part only
- Couple of handfuls of spinach or other greens - we used the Turkish style bunched spinach with the longer stems left on
- Salt & Pepper
- 2 eggs, beaten
For your dipping sauce:
Chinkiang vinegar - 2 Tbsp.
Light or Tamari soy sauce - 2 Tbsp.
Any kind of chilli sauce to taste - Toko Asia has jars of fermented black beans with chilli oil which work well - a couple of teaspoons of this add plenty of flavour and heat but avoid if you want something more mellow.
Mix the ingredients together and taste. Adjust the proportions or add extra chilli until you have a sauce you like.
( I sometimes make this sauce more south-east Asian in style by adding Vietnamese fish sauce, 1/2 tsp. caster sugar and some lime juice and chopped coriander - experiment and see what you prefer)
Method
1. Mix the pork together well with two or three tsps of the ginger water and the rice wine.
2. Add the stock and beaten eggs, mixing well.
3. Place the spinach or greens in a bowl and pour over boiling water. Leave for a few minutes to blanche. Drain, run under cold water, squeeze out excess water and chop roughly before adding to the pork mixture.
4. Add the chopped spring onions and season the mixture with salt and pepper, mix well.
5. To form your dumplings, place a wrapper on the palm of your hand with one corner facing your fingers and place 1 quite generous tsp of filling in the middle.
Dip your finger in a cup of cold water and run it along two edges.
Fold one corner over diagonally to meet the opposite corner and seal the sides to make a filled triangle (see pictures).
Turn the triangle round in your hand so that the longer side is facing your fingers and the point of the triangle is facing towards your wrist. 
Using both hands, gently bend the two corners around to meet, moisten one corner and press the other onto it - you will have formed the "water caltrop" shape which is often used for Chinese dumplings (see pictures!) Place formed dumplings on a tray as you go.
To cook: Bring a large pan of water to the boil. Carefully drop in some of your dumplings and stir gently to prevent them sticking together (you may need to cook them in several batches). Once the water has come back to the boil, add a small cup of cold water. Wait for the water  to boil again and add one more cup of cold water. By the third boil your dumplings should be ready and floating on the water. Remove with a slotted spoon and place in a bowl.
Serve scattered with some spring onion greens and the dipping sauce along side, or pour the sauce over if you prefer.
We also served a small bowl of freshly toasted and ground sichuan peppercorns mixed with salt, for sprinkling.
To go with the dumplings  we prepared some finely sliced asian radish dressed with vinegar, soy and garlic and a "smacked" cucumber salad from Fuschia Dunlop's Every Grain of Rice (Bloomsbury, 2012). You could serve rice too if you want some extra carbs but the dumplings are pretty filling without! Don't forget the German beer ;)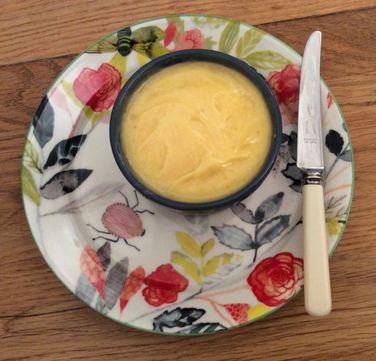 January 2016 - Lemon curd
If you've ever spent time in the UK you will probably have tried lemon curd, if you haven't, you must try it, especially if you love lemons! It is a delicious smooth lemon jam, traditional with toast for breakfast or lovely with scones or as a filling for cakes. It is very sweet and VERY lemony and is wonderful on warm bread or the delicious "Laugencroissant"that I sometimes buy from my local bakery on Dotzheimer Strasse. The perfect way to brighten up a winter's day!
Traditional Lemon Curd
Zest of 4 large lemons + juice of 3
120 g unsalted butter, room temperature
300 g caster sugar
5 large egg yolks
pinch salt
Blitz the caster sugar and lemon zest in a mixer or spice grinder for 30 seconds.
Add the zest/sugar mixture to the soft butter and using an electric hand mixer, mix until creamy and fluffy.
Mix in the egg yolks one at a time, then add the juice and salt and mix well.
Pour the mixture into a non-reactive (stainless steel) pan and heat on  a low-medium heat until the mixture starts to thicken. Stir constantly, it will take around 15 minutes and the curd should become thick enough to coat the back of a spoon well - it will continue to thicken more once it cools. If you have a sugar thermometer you can check that the mixture has come to 170 °C but this is not essential - as long as it looks thickened it should be fine. 
Pour into a bowl and leave to cool -  once cooled, spread thickly on bread or scones and enjoy the intensely lemony flavour! It will keep for a week in the fridge if need be.
---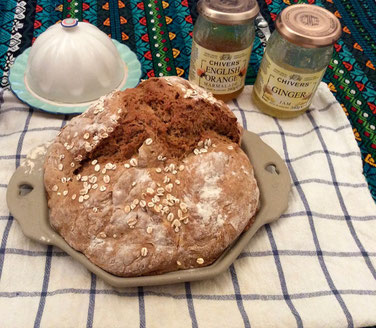 January 2016 - Irish Soda Bread with spelt flour
On Sunday morning I decided to have a go at making a Irish soda bread for breakfast as I'd never made one before. As the name suggests, soda bread uses bicarbonate of soda to make the bread rise, rather than yeast, so it is much quicker and easier to make than a yeasted bread (1 hour from start to finish). It has a nice moist, slightly crumbly texture but will only keep for 24 hours before becoming stale - it's fine toasted the next day for breakfast but no longer. In this version I used half ordinary plain flour and half spelt (dinkel) flour, which is cultivated in this area of Germany, but you could experiment with different sorts of flour if you wanted. 
Irish Soda Bread with Spelt Flour
250 g plain white flour
200 g spelt (dinkel) flour 
1 tsp bicarbonate of soda
300 ml buttermilk
2 tbsp. water
1 tbsp. black treacle or honey
In a large bowl, mix the dry ingredients, then make a dip in the middle.
Mix the buttermilk, water and treacle/honey together and then tip into the dry ingredients and mix with a spoon or fork until a dough begins to form. Use well-floured hands to finish bringing it together  - you may need to add a little more flour but try not to knead the dough too much.
Shape into a round on a floured baking sheet and use a knife to slash a cross in the top. Sprinkle with a little extra spelt flour and some rolled  oats or barley if you have any. 
Bake for around 40-45 minutes at 200°C until browned and risen. It should sound hollow when tapped on the bottom.
Leave to cool for at least 20 minutes and then eat warm with butter, jam, eggs, or whatever you fancy!
---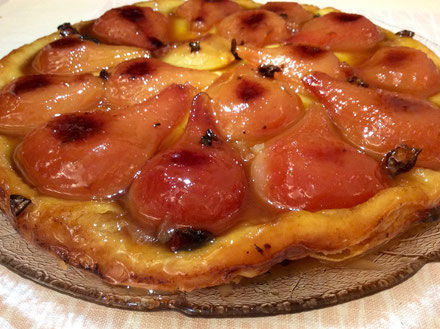 November 2015 - Tarte Tatin aux Poires 
This weekend I decided to make up a batch of home-made puff pastry, or pate feuilletée as it's known in French. If you haven't tried making your own puff pastry then I would recommend you try it, with one caveat: do not plan to make it if you are busy or stressed! It's not difficult, but it does require quite a lot of time as it's made in several stages, with resting time in the fridge in between each stage. It's one of those things to do on a nice quiet Saturday or Sunday when you don't have much on and feel like a relaxing day at home drinking tea and feeling cosy.
Obviously you can buy very good puff pastry in any supermarket nowadays, although a lot of the cheaper ones tend to contain hydrogenated oils and other, not very healthy, additions. Home made puff pastry isn't quite as puffy or flaky as the shop-bought variety but has a wonderful buttery flavour and is well worth the effort. I would recommend making up a large batch and then freezing what you're not going to use within a few days in well-wrapped 250 g portions. 
Although apples are the traditional fruit used for tarte tatin, pears are of course in season too at the moment. I had some nice ones I had bought from the market so I decided to go for a spiced pear version using fragrant star anise and a few spicy cloves.
There are different ways of tackling the tarte tatin, which is essentially a well-caramelised upside-down fruit tart, but I prefer to use the traditional method given by Michel Roux, in The Essence of French Cooking  (Quadrille, 2014):  the fruit is caramelised, with the pastry laid on top, for around 20 minutes on the hob, before going into a hot oven to finish cooking. This means that you do need a pan that can go on the hob and in the oven - I use a non-stick all-metal sauté pan but if you have a cast-iron pan or even a shallow casserole dish that can be used on the hob/in the oven then you'll be fine. To turn the tarte tatin out you also need a serving plate that will fit over the pan.
Recipe: Tarte Tatin aux Poires
For the quick puff pastry:
This quantity will give you about 500-600 grams of pastry - you only need half that for the tarte tatin so you can keep the rest for another recipe (it will keep a few days in the fridge or up to four weeks in the freezer).
250g plain flour
250g well-chilled unsalted butter cut into small cubes (make sure your butter is good quality, at least 82% fat)
1 tsp salt
125 ml iced water - this is the maximum you will need but you may only use half the amount
Place your flour in a large mixing bowl, add the cubed butter and, using your finger tips, start to rub the butter into the flour. This is hard work, your hands will get tired but keep rubbing the butter in until the mixture starts to feel like wet sand and there are no more large lumps of butter left - small lumps are ok, you want a grainy- looking dough.
Once you get to this stage you need to trickle in a little of your iced water and mix in with your fingertips. DO NOT ADD ALL THE WATER IN ONE GO! keep trickling in little amounts and mixing to form a dough - when the dough has come together and you can form a ball (it shouldn't be sticky) then you can wrap it in clingfilm and chill for 20 minutes. 
Once chilled, flour a work surface and use a rolling pin to roll out your pastry into a 40 x 20 cm rough rectangle. Fold it into thirds, by folding each side over into the middle and then turn by 90° (quarter turn). Roll again into a 40 x 20 rectangle and fold each side over into the middle again. Now wrap in clingfilm again and refrigerate for 30 minutes.
When chilled, take out your pastry and proceed as before, rolling into a rectangle and folding it into thirds. Turn again by 90° and roll out and fold again. You will have turned and folded your pastry 4 times so it is now ready.  It needs chilling one last time for at least 30 minutes before you use it. 
To make the Tarte Tatin
4,6 or 8 pears (not too ripe) depending on the size of the pears and the size of the pan you want to use (ideally, your pan should be between 24 and 28cm in diameter)
Juice of 1 lemon
120g softened butter
200g caster sugar
4 star anise + a few cloves
250g quick puff pastry
Method
Peel, de-stalk, halve and scoop out the cores of your pears, placing them in a bowl and sprinkling with lemon juice to prevent browning.
Take your sauté pan and press the softened butter all over the base with your fingers. Sprinkle the sugar over the butter evenly and press your spices evenly in around the pan. Arrange you pear halves in the pan, rounded side down, either in one large ring or two smaller concentric rings if your pears are smaller. You can cut a piece of pear to fit the middle if need be.
Roll out your chilled pastry into a circle to cover the pears and reach the sides of the pan. If your pan is shallow, you can leave a little pastry overhang over the top of the pan and trim excess pastry off from around the sides with a sharp knife.  If your pan is deeper, just make sure the pastry covers the fruit & reaches the sides of the pan and tuck it down slightly around the sides. Chill the whole pan again for 20 mins.
Preheat the oven to 220 °C (375 F). While the oven is heating, place the pan over a medium-high heat for 5 minutes, then lower the heat to medium and cook for 15 minutes, which will allow the butter and sugar to caramelise in the bottom. You can peep under the edge of the pastry using a fork to check that the caramel is turning golden-brown. When it is, transfer to the oven. Bake for 10 minutes at 220 °C, then turn down to 180 °C for 20 more minutes. Remove from oven and leave to rest for a couple of minutes.
To turn out the tarte tatin you need a plate that will just fit over it. Make sure you use good silicone oven gloves to protect your hands and cover you forearms with tea towels or sleeves. You might want to protect the countertop or stove top with a tea towel too to catch any caramel that might escape. You need to turn the pan quickly upside-down onto the plate and take the pan away. If any of the pears have been moved, just gently move them back into place with a fork.
Serve your beautiful tarte tatin straight away with some fresh pouring cream or good vanilla ice-cream. Bon appétit!