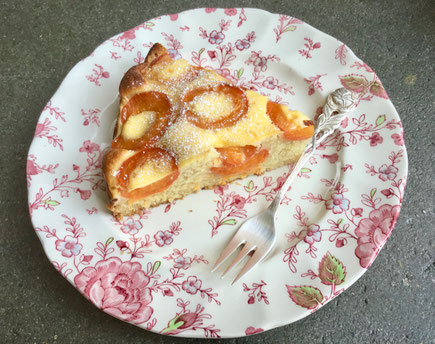 This week I bought a kilo of lovely, small, rosy apricots from the nice people at the Hof Rosenköppel farm shop in Frauenstein. I had a hankering for a French-style apricot cake but couldn't remember whether I'd made one before and didn't have a recipe to hand. A quick Google brought me to this great recipe from Clothilde at Chocolate and Zucchini.
This is the perfect example of how the French make wonderful fresh fruit cakes – the quick custard poured over before baking gives a lovely creamy moistness that I often find is missing from seasonal stone fruit cakes.
I should also add that I made a few changes to the method: I creamed the sugar and butter first in the usual way, just because I'm more comfortable with that method, then added the egg and a couple of tablespoons of milk. Next, I sieved in the dry ingredients and mixed the batter gently by hand. I loosened the mixture up with another 3 tablespoons of milk after adding the flour, so I used 5 tbsp of milk in total.
I also used spelt flour and added a teaspoon of vanilla essence to the batter. 
The result was exactly what I was looking for! I'll definitely use this recipe again and will try experimenting with other seasonal fruit like plums or rhubarb, as Clothilde recommends. Vive la France J